Norcraft Companies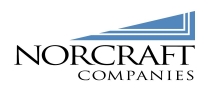 Company Address
950 Blue Gentian Road Ste 200
Eagan, Minnesota 55121

Door Styles Available
Shaker
Arched
Raised Panel
Flat Panel
Wood Used
Oak
Maple
Cherry
Hickory
Alder
Lyptus
Norcraft Companies has been making long lasting cabinets since 1966. As cabinet makers, we offer a spectrum of products, satisfying every budget and style, from traditional to transitional to contemporary. We build frameless and framed cabinetry, overlay and inset cabinetry, stock to custom cabinetry for every room in the home.
All of our cabinets are built in America to high quality standards, and delivered on time and complete.
Norcraft Companies participates in the Kitchen Cabinet Manufacturers Association's (KCMA) stringent Performance & Construction Standard for kitchen and vanity cabinets. Tests conducted by an independent laboratory measure structural integrity, as well as drawer, door and finish durability. Cabinets that bear the KCMA Certification seal are recognized in the marketplace as superior products, capable of withstanding typical household use better and longer.
Editor review
Great Cabinet Maker
Norcraft Companies has a rich history in the Kitchen Cabinet Industry. They started in 1966 and have grown to become one of the largest manufacturers of semi-customs cabinets in the United States and Canada. They currently market cabinets under seven brands - StarMark Cabinetry, Fieldstone Cabinetry, Mid Continent Cabinetry, Norcraft Cabinetry, Urban Effects Cabinetry, UltraCraft Cabinetry and Europa Cabinetry. Each of their brands offers an excellent selection of door styles, wood species and finish options ranging from modern slab door styles to contemporary classics. They also offer recessed door options. If you are shopping for cabinets, you should consider one of the Norcraft brands. All of them rate highly on KCR and you should be able to find a style and finish that fits your budget.
Was this review helpful to you?
User reviews
There are no user reviews for this listing.